If you are the lucky owner of the brand-new iPhone, check our instructions on how to successfully synchronize phonebook contacts. Use Google Account sync, install an app with a direct device-to-device transfer solution, or store contacts on a SIM card. There you go! Here are four methods to easily transfer contacts to your Apple device.
Get to know a few useful methods of transferring content, including saved contacts to your new iPhone.
How to transfer contacts from Android to iPhone using the Move to iOS app?
Firstly, download the Move to iOS app from Google Play Store on your Android device.
Secondly, initialize your new iPhone.
Thirdly, on the Apps & Data screen, select the Move Data from Android option.
Then, launch the Move to iOS app on your Android, and make sure the Wi-Fi network is enabled.
Select the Continue option on both devices.
Next, confirm all emerged terms and conditions on Android device.
To proceed, tap on the Next option.
In the app, provide a confirmation code from the iPhone screen.
Select the content to import and start the process.
How to transfer contacts using SIM?
To begin, launch the Contacts app on Android device.
Next, tap on the menu icon on top.
Choose the Manage contacts section.
Then, select the Import/Export Contacts option.
To continue, pick the Export option.
Specify the transferring place and choose the SIM card.
Mark all contacts to move and, then tap on Done.
Tap on the Export option and confirm your choice again.
Exchange the SIM card on the iPhone.
Then, launch the Settings app.
Enter Contacts area.
Tap on the Import SIM Contacts option.
In the last step, pick the account to store the contacts.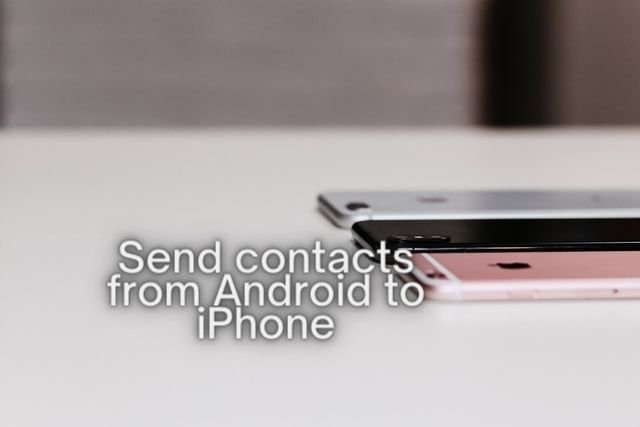 How to transfer contacts from Android to iPhone using Google Account?
First of all, launch the Settings app.
Then, get into the Passwords & Accounts section.
Select Add Account option and then Google.
Add Google User to your iPhone. The Google Data, contacts, and apps information will automatically synchronize.
How to transfer contacts using iTunes?
In the very beginning, launch an iTunes app on your iPhone.
Then, select the Info tab and activate the contacts synchronization with the Google account.
Next, change accessibility settings on Google account and enable iTunes the permission to access stored contacts.
Hang on a little bit for Google contacts to appear in your iPhone phonebook.