Get Your Data Back with Wondershare Repairit
Are you tired of the sinking feeling when you discover your important Excel files have been corrupted or lost? It's a scenario we've all encountered, and there are numerous reasons behind it, from unexpected system crashes and software glitches to power outages and accidental deletions. We often seek a quick and effective solution to recover our vital data in such despair.
That's where our dedicated tool, Wondershare Repairit, comes into play. In this article, we will walk you through recovering corrupted Excel files online in no time, using Repairit to salvage your data and get your work back on track.
Download the best Excel Repair to get started right away!
Why Recovering Lost/Corrupted Excel Files is Important for People?
Repairing lost or corrupted Excel files is paramount for individuals and businesses. Here's why:
1. Minimizing Data Loss for Individuals
For individuals, Excel files often contain critical personal and financial information. Losing these files can irreplaceably cause you to lose budget data, tax records, project plans, etc. Repairing corrupted files ensures that your valuable data remains intact, saving you from hours of work and potential financial setbacks.
2. Ensuring Business Continuity
Excel is a fundamental tool for data analysis, financial reporting, and project management. Business operations can halt if crucial spreadsheets are lost or corrupted. Timely repair of these files is essential to maintain productivity and meet deadlines, ensuring business continuity.
3. Safeguarding Financial Records
Accounting firms and financial institutions heavily rely on Excel for storing and analyzing financial data. The loss or corruption of these files can lead to accounting discrepancies, financial losses, and even regulatory compliance issues. Swift recovery is imperative to protect financial records and maintain the integrity of financial statements.
4. Meeting Project Deadlines
Project management teams use Excel to track tasks, schedules, and resources. A corrupted project file can derail timelines, leading to missed deadlines and potential client dissatisfaction. Repairing these files promptly is crucial to keep projects on track and maintain a professional reputation.
5. Preserving Research and Analysis
Researchers, analysts, and academics often use Excel for data analysis and research projects. Losing or corrupting these files can reduce research progress and waste valuable time. Repairing Excel files ensures that research and analysis efforts remain on course, preventing setbacks in academic and professional pursuits.
Here's the best way to repair Excel file online!
What is Wondershare Repairit?
Wondershare Repairit is a powerful and versatile software solution designed to rescue your valuable data by repairing corrupted or lost files, particularly Excel files. It's a dedicated tool that offers a straightforward and efficient way to recover your essential spreadsheets. Whether you're an individual dealing with personal data or a business managing critical financial records, Repairit comes to your aid with its key features.
Repairit boasts an intuitive interface that requires no technical expertise. Its straightforward design ensures that anyone can navigate and use the software effectively, regardless of their technical proficiency. It employs advanced algorithms to salvage and reconstruct damaged data, ensuring a high likelihood of complete file recovery.
Repairit lets you preview the repaired files before saving them, giving you full control over the recovered data. This feature ensures that you only retain the information you need and that it's intact and accurate. It supports a wide range of Excel file formats, easily recovering files created in different Excel versions, including .xls and .xlsx.
How to Repair Excel Files Using Wondershare Repair?
If the damage to your Excel files is more extensive, you may use Wondershare Repairit – File Repair to restore them. It's easy to use and can fix many Excel, Word, PowerPoint, and PDF documents with only a few clicks. Here's how:
Step 1: If you have a faulty Excel file and need to repair it, you must run Wondershare Repairit on your computer and choose the Other Types Repair> File Repair option from the program's menu bar. The "Add" button makes finding and importing any damaged Excel file into the program easy.
Step 2: You can see information about the damaged Excel files, such as their size and location, on the side, and then fix them by clicking the "Repair" button.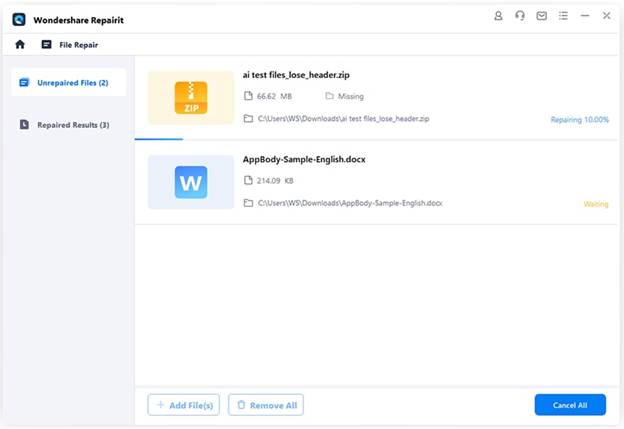 Note: After that, the program will automatically fix your corrupt or damaged Excel files while you relax. Excel file repair status updates are available in the program.
Step 3: Once the fixing procedure is done, Wondershare Repairit will notify you. You may now click the "Preview" button to see the corrected data. Click the Save option to save the file on your computer.
Things to Avoid When an Important Excel File is Lost/Corrupted Suddenly
When faced with the sudden loss or corruption of an important Excel file, it's crucial to exercise caution and avoid certain actions that could exacerbate the situation. Here are some key things NOT to do in such a scenario:
1. Don't Attempt Repeated Opening:
Attempting to open a corrupted file multiple times can exacerbate the issue. Each unsuccessful attempt can introduce further damage to the file, making it more challenging to recover.
2. Avoid Re-saving
When you notice a file is corrupted, the instinct to save it again might arise as you hope to fix the issue. However, this can have the opposite effect. Re-saving the corrupted file may overwrite the original data, making it harder to retrieve the intact information during the recovery process.
3. Don't Rely on Unverified Solutions
While the internet offers various software and online tools claiming to repair corrupted files, not all are trustworthy. Relying on unverified or dubious third-party solutions for recovery can be risky.
4. Don't Ignore Backups
If you have previously created backups of your Excel files, it's essential not to overlook them. Backups can be a lifesaver when the original file is corrupted or lost. Ignoring your backups could lead to unnecessary complications and extended downtime.
5. Avoid Making Irreversible Changes
In desperation, some individuals might consider making significant system changes, such as reformatting their computer or reinstalling software, to fix the issue. However, making such irreversible changes without professional guidance can be risky.
Final Words
Where data loss and file corruption can strike unexpectedly, recovery becomes paramount. As we bid farewell, remember this: a reliable maestro stands ready to restore harmony to your crucial Excel files in the symphony of chaos.
Wondershare Repairit, our trusted virtuoso, promises a seamless recovery experience. It's the silver lining in the cloud of data despair, ensuring your spreadsheets are never silenced by corruption.
Wondershare Repairit Free Download:
Want to recover corrupted excel files online in no time? Then, click below to download Wondershare Repairit.