Apple Watch Series 2 Serial Number Lookup
Find out all details about
Apple Watch Series 2
with us! Use the best online
Apple Serial Number
and see a site with all technical details about
Apple Watch Series 2
.
AppleSN.info
gives you a unique opportunity to check the software and hardware configuration of
Apple Watch
Series 2.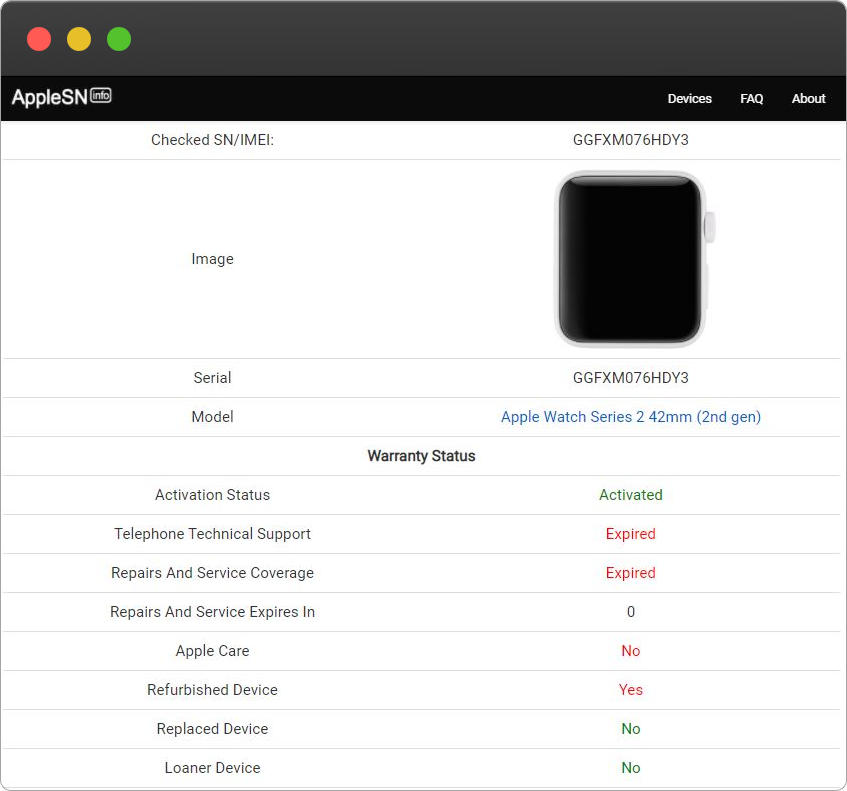 This
Apple Serial Number Checker
lets you check every Apple product ever made and what's more, it is completely free and you can use it as many times as you want. See all info about
Apple Watch Series 2
, including case size, case color, and case diameter. This watch was produced in few different sizes beginning from 38 millimeters to 42 millimeters and in stainless, white, and ceramic finish. A detailed description of the Apple Watch Series 2 display is also available on
AppleSN.info
. Find out maximum resolution, highest possible brightness, and unique features like
Apple Force Touch
. Only
AppleSN.info
Apple Serial Number Checker
gives you that much information about Apple products so don't hesitate and use it to check all your Apple devices.
Technical Specifications
Watch Series 2
Apple Watch

Aluminum case with Sport Band or Woven Nylon band
Stainless steel case with Sport Band, stainless steel band, or leather band

Apple Watch Nike+

Aluminum case with Nike Sport Band

Apple Watch Hermès

Stainless steel case with Hermès leather band
Additional Sport Band included with purchase

Apple Watch Edition

Ceramic case with Sport Band
Magnetic Charging Dock included with purchase

Dimensions
Aluminum case – 38mm

Height: 38.6mm
Width: 33.3mm
Depth: 11.4mm
Case Weight: 28.2g

Aluminum case – 42mm

Height: 42.5mm
Width: 36.4mm
Depth: 11.4mm
Case Weight: 34.2g

Stainless Steel case – 38mm

Height: 38.6mm
Width: 33.3mm
Depth: 11.4mm
Case Weight: 41.9g

Stainless Steel case – 42mm

Height: 42.5mm
Width: 36.4mm
Depth: 11.4mm
Case Weight: 52.4g

White Ceramic case – 38mm

Height: 39.2mm
Width: 34.0mm
Depth: 11.8mm
Case Weight: 39.6g

White Ceramic case – 42mm

Height: 42.6mm
Width: 36.5mm
Depth: 11.4mm
Case Weight: 45.6g

Chip

Dual‑core processor
Built‑in GPS and GLONASS

Features

Built-in GPS and GLONASS
Water resistant 50 meters1
Wi-Fi (802.11b/g/n 2.4GHz)
Bluetooth 4.0
Heart rate sensor
Accelerometer
Gyroscope
Ambient light sensor

Display

Second-generation OLED Retina display with Force Touch 2x brighter (1000 nits)
Sapphire crystal (stainless steel and ceramic cases)
Ion-X glass (aluminum cases)
272 by 340 pixels (38mm)
312 by 390 pixels (42mm)

Power and Battery

Built-in rechargeable lithium-ion battery
Up to 18 hours
Magnetic charging cable
USB power adapter