Apple MacBook Pro (Retina, 15-inch, Late 2013) Serial Number Lookup
What a great surprise is here for all MacBook Pro users! Let us show you one of the greatest tools ever. Check out how to get detailed information regarding Apple MacBook Pro (Retina, 15-inch, Late 2013). Just within a couple of seconds, you will be able to reach super important data. No matter if you are about to buy such a device online, or you need to check the one standing nearby, this tool will be amazingly helpful in both scenarios. Once you are looking for MacBook Pro on some Internet auction, you have to check if the description matches the real device. However, when you already have MacBook Pro Retina, late 2013, you will be happy to have all dates, statuses, and so on in one place – and it is not your head!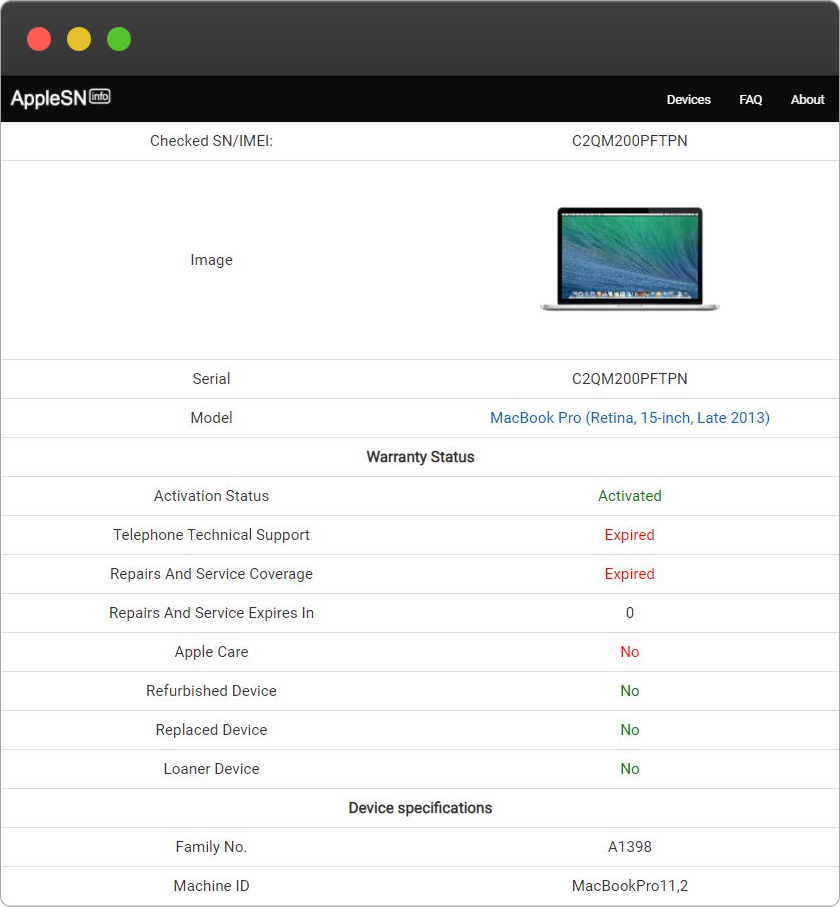 SN Lookup is an extremely useful feature, there is no point in repeating it. Yet the question arises: how to use it. No worries, there is almost nothing that needs to be done on your end. Just prepare your Mac Pro Serial Number and make sure that you have an active internet connection. Just visit our website and we will do everything for you! When you enter SN and start the search, you will be able to discover data such as Activation Status, Technical Support, Purchase Country, Full Device Description with all the features, and resolutions included. You will fall in love with this SN Lookup. As we mentioned, not only is this extremely important to learn information about your current macOS device. It is also super useful if you are about to buy MacBook Pro (Retina, 15-inch, Late 2013) online.
Technical Specifications
Display

Retina display: 15.4-inch (diagonal) LED-backlit display with IPS technology; 2880-by-1800 resolution at 220 pixels per inch with support for millions of colors
Native resolution: 2880 by 1800 pixels (Retina); scaled resolutions: 1920 by 1200, 1680 by 1050, 1280 by 800, and 1024 by 640 pixels

Processor

2.0GHz

2.0GHz quad-core Intel Core i7 processor (Turbo Boost up to 3.2GHz) with 6MB shared L3 cache
Configurable to 2.3GHz quad-core Intel Core i7 (Turbo Boost up to 3.5GHz) with 6MB shared L3 cache or 2.6GHz quad-core Intel Core i7 (Turbo Boost up to 3.8GHz) with 6MB shared L3 cache.

2.3GHz

2.3GHz quad-core Intel Core i7 processor (Turbo Boost up to 3.5GHz) with 6MB shared L3 cache
Configurable to 2.6GHz quad-core Intel Core i7 (Turbo Boost up to 3.8GHz) with 6MB shared L3 cache.

Memory

8GB of 1600MHz DDR3L onboard memory
16GB of 1600MHz DDR3L onboard memory

Storage

256GB

Configurable to 512GB or 1TB flash storage.

512GB

Configurable to 1TB flash storage.

Size and Weight

Height: 0.71 inch (1.8 cm)
Width: 14.13 inches (35.89 cm)
Depth: 9.73 inches (24.71 cm)
Weight: 4.46 pounds (2.02 kg)

Graphics and Video Support

Intel Iris Pro Graphics
NVIDIA GeForce GT 750M with 2GB of GDDR5 memory and automatic graphics switching
Dual display and video mirroring: Simultaneously supports full native resolution on the built-in display and up to 2560 by 1600 pixels on up to two external displays, both at millions of colors
Thunderbolt digital video output

Native Mini DisplayPort output
DVI output using Mini DisplayPort to DVI Adapter (sold separately)
VGA output using Mini DisplayPort to VGA Adapter (sold separately)
Dual-link DVI output using Mini DisplayPort to Dual-Link DVI Adapter (sold separately)

HDMI video output

Support for 1080p resolution at up to 60Hz
Support for 3840-by-2160 resolution at 30Hz
Support for 4096-by-2160 resolution at 24Hz

Camera
Connections and Expansion

MagSafe 2 power port
Two Thunderbolt 2 ports (up to 20 Gbps)
Two USB 3 ports (up to 5 Gbps)
HDMI port
Headphone port
SDXC card slot
Apple Thunderbolt to FireWire Adapter (sold separately)
Apple Thunderbolt to Gigabit Ethernet Adapter (sold separately)

Wireless

Wi-Fi

802.11ac Wi-Fi wireless networking; IEEE 802.11a/b/g/n compatible

Bluetooth

Bluetooth 4.0 wireless technology

Audio

Stereo speakers
Dual microphones
Headphone port

Support for Apple iPhone headset with remote and microphone
Support for audio line out (digital/analog)

Keyboard and Trackpad

Full-size backlit keyboard with 78 (U.S.) or 79 (ISO) keys, including 12 function keys and 4 arrow keys (inverted "T" arrangement) with ambient light sensor
Multi‑Touch trackpad for precise cursor control; supports inertial scrolling, pinch, rotate, swipe, three‑finger swipe, four‑finger swipe, tap, double‑tap, and drag capabilities

Battery and Power

Up to 8 hours wireless web
Up to 8 hours iTunes movie playback
Up to 30 days standby time
Built-in 95-watt-hour lithium-polymer battery
85W MagSafe 2 Power Adapter with cable management system; MagSafe 2 power port

Electrical and Operating Requirements

Line voltage: 100V to 240V AC
Frequency: 50Hz to 60Hz
Operating temperature: 50° to 95° F (10° to 35° C)
Storage temperature: –13° to 113° F (–25° to 45° C)
Relative humidity: 0% to 90% noncondensing
Maximum operating altitude: tested up to 10,000 feet
Maximum storage altitude: 15,000 feet
Maximum shipping altitude: 35,000 feet

Operating System
In the Box

MacBook Pro with Retina display
MagSafe 2 Power Adapter
AC wall plug
Power cord