Apple MacBook Air (Mid 2009) Serial Number Lookup
Don't hesitate any moment more and use online
Apple Serial Number Lookup
, to check the detailed technical specification of the
Apple MacBook Air from Mid 2009
, all you need to do is to enter the
Serial Number
on
AppleSN.info
and click on the magnifying glass icon, and immediately you will see complete information about
Apple MacBook Air (Mid 2009)
. You will be able to check what was included in the box when
Apple MacBook Air (Mid 2009)
was brand new. You will receive detailed information about battery and power, Peripheral Audio connections, Wireless connections, input ports, graphics, and video support, display, storage, and many more. You will be able also to check the warranty status and production date.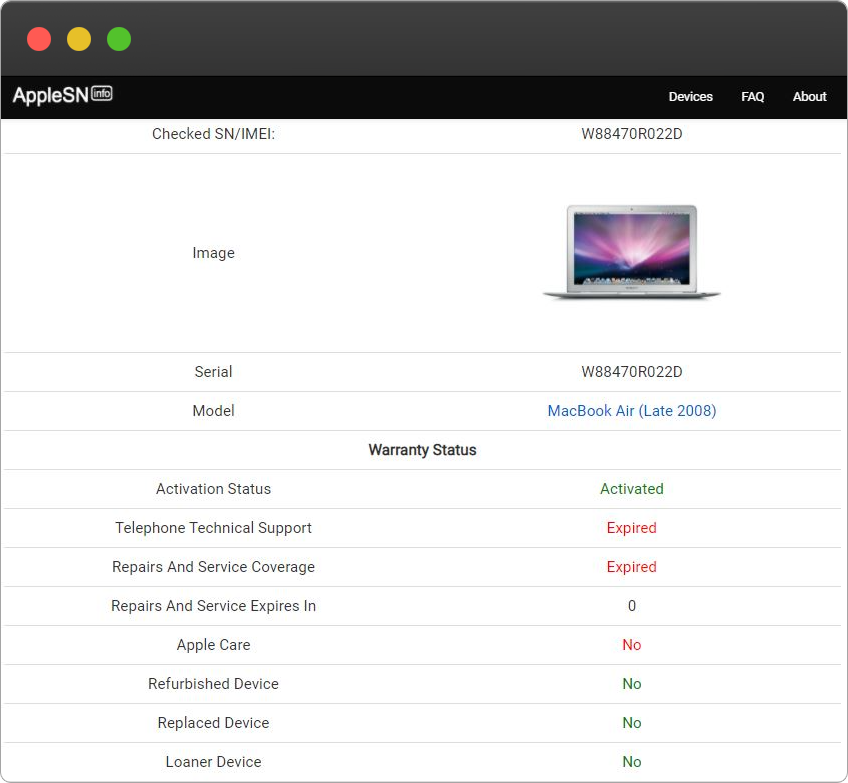 This is the best online
Serial Number checker
, and completely free to use.
AppleSN.info
Serial Number Decoder
will give you access to knowledge that was available only to qualified Apple technicians.
Apple Serial Number Lookup
is a unique tool that will give the complete technical specification of
Apple MacBook Air (Mid 2009)
and other Apple products.
Technical Specifications
Size and weight

Height: 0.16-0.76 inch (0.4-1.94 cm)
Width: 12.8 inches (32.5 cm)
Depth: 8.94 inches (22.7 cm)
Weight: 3.0 pounds (1.36 kg)

Processor and memory

1.86GHz or 2.13GHz Intel Core 2 Duo processor with 6MB on-chip shared L2 cache running 1:1 with processor speed
1066MHz frontside bus
2GB of 1066MHz DDR3 SDRAM onboard

Storage

120GB 4200-rpm Serial ATA hard disk drive or 128GB solid-state drive2
Optional external USB MacBook Air SuperDrive

Display

13.3-inch (diagonal) LED-backlit glossy widescreen display with support for millions of colors
Supported resolutions: 1280 by 800 (native), 1152 by 720, 1024 by 640, and 800 by 500 pixels at 16:10 aspect ratio; 1024 by 768, 800 by 600, and 640 by 480 pixels at 4:3 aspect ratio; 720 by 480 pixels at 3:2 aspect ratio

Graphics and video support

NVIDIA GeForce 9400M graphics processor with 256MB of DDR3 SDRAM shared with main memory3
Extended desktop and video mirroring: Simultaneously supports full native resolution on the built-in display and up to 2560 by 1600 pixels on an external display, both at millions of colors
Built-in iSight camera
Mini DisplayPort

Pure digital video output

DVI output using Mini DisplayPort to DVI Adapter (optional)
VGA output using Mini DisplayPort to VGA Adapter (optional)
Dual-link DVI output using Mini DisplayPort to Dual-Link DVI Adapter supports 30-inch Apple Cinema HD Display (optional)

Input

Built-in full-size keyboard with 78 (U.S.) or 79 (ISO) keys, including 12 function keys and 4 arrow keys (inverted "T" arrangement)
Backlit keyboard with ambient light sensor for automatic adjustment of keyboard illumination and screen brightness
Solid-state trackpad with Multi-Touch gesture support for precise cursor control; supports two-finger scrolling, pinch, rotate, swipe, three-finger swipe, four-finger swipe, tap, double-tap, and drag capabilities

Wireless

Built-in AirPort Extreme Wi-Fi wireless networking (based on IEEE 802.11n draft specification); IEEE 802.11a/b/g compatible
Built-in Bluetooth 2.1 + EDR (Enhanced Data Rate)

Peripheral Audio connections

Analog audio output/headphone out (minijack)
Built-in mono speaker
Built-in omnidirectional microphone

Battery and power

Integrated 40-watt-hour lithium-polymer battery
45W MagSafe Power Adapter with cable management system
MagSafe power port

What's in the box

MacBook Air
45W MagSafe Power Adapter, AC wall plug, power cord
Apple USB Ethernet Adapter
Install/restore DVDs
Display cleaning cloth
Printed and electronic documentation
This website uses cookies to improve your experience. We'll assume you're ok with this, but you can opt-out if you wish.

Cookie settings

Got it!
Privacy Overview
This website uses cookies to improve your experience while you navigate through the website. Out of these cookies, the cookies that are categorized as necessary are stored on your browser as they are essential for the working of basic functionalities of the website. We also use third-party cookies that help us analyze and understand how you use this website. These cookies will be stored in your browser only with your consent. You also have the option to opt-out of these cookies. But opting out of some of these cookies may have an effect on your browsing experience.
Necessary cookies are absolutely essential for the website to function properly. This category only includes cookies that ensures basic functionalities and security features of the website. These cookies do not store any personal information.
Any cookies that may not be particularly necessary for the website to function and is used specifically to collect user personal data via analytics, ads, other embedded contents are termed as non-necessary cookies. It is mandatory to procure user consent prior to running these cookies on your website.