Apple Mac mini Server (Late 2012) Serial Number Lookup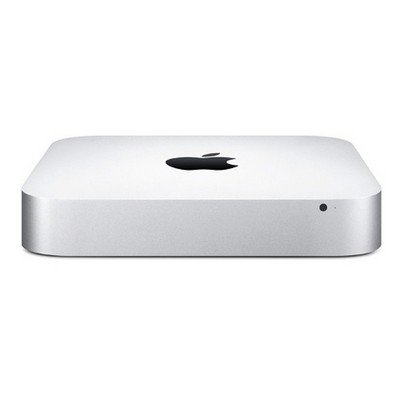 Let's find out all you need to know about the Apple Mac mini Server (Late 2012) on one site. No, it is not a dream! Thanks to Serial Number Checkup its reality. This great Apple Serial Number Decoder gives you the unique opportunity to checked detailed technical specifications of Apple iPad mini and any other Apple product just by entering its serial number on the AppleSN.info site. If your Apple Mac mini has a cellular option you can also use the IMEI Number as well.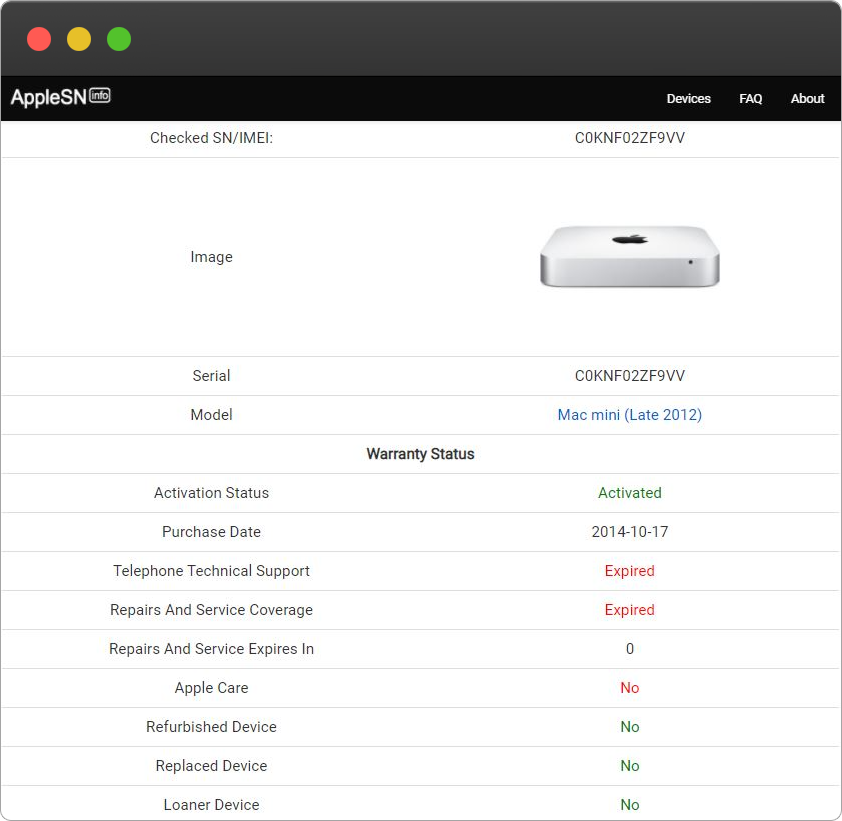 Use Apple Serial Number Checker to find all details about your Apple device. You will be able to reach loads of tiny details. So just use the checker and see how much info can become clear in a fraction of a few seconds. Read your device's Production date, Activation Status, Purchase Date, Technical Support, Repairs And Service Coverage, or Apple Care Status. No more wonders. Just open the browser, visit applesn.info, and smoothly check up on your Mac mini Server. Happy days! Our website is all you need to use when you want to check used or brand new Apple product. Enjoy!
Technical Specifications
Size and Weight

Height: 1.4 inches (3.6 cm)
Width: 7.7 inches (19.7 cm)
Depth: 7.7 inches (19.7 cm)
Weight: 2.9 pounds (1.3 kg)

Processor

2.3GHz quad-core Intel Core i7 (Turbo Boost up to 3.3GHz) with 6MB L3 cache

Configurable to 2.6GHz quad-core Intel Core i7 (Turbo Boost up to 3.6GHz).

Storage

Two 1TB (5400-rpm) hard drives
Configurable to one or two 256GB solid-state drives.

Graphics
Memory

4GB (two 2GB) of 1600MHz DDR3 memory
Configurable to 8GB or 16GB.

Video Support

Thunderbolt digital video output

Native Mini DisplayPort output
DVI output using Mini DisplayPort to DVI Adapter (sold separately)
VGA output using Mini DisplayPort to VGA Adapter (sold separately)
Dual-link DVI output using Mini DisplayPort to Dual-Link DVI Adapter (sold separately)

Audio

Audio line in minijack (digital/analog)
Audio line out/headphone minijack (digital/analog)
HDMI port supports multichannel audio output
Support for Apple iPhone headset with microphone
Built-in speaker

Connections and Expansion

Thunderbolt port (up to 10 Gbps)
FireWire 800 port (up to 800 Mbps)
Four USB 3 ports (up to 5 Gbps)
HDMI port
SDXC card slot
Gigabit Ethernet port
Audio in/out
IR receiver

Communications

Wi-Fi

802.11n Wi-Fi wireless networking; IEEE 802.11a/b/g compatible

Bluetooth

Bluetooth 4.0 wireless technology

Ethernet

10/100/1000BASE-T Ethernet (RJ-45 connector)

Electrical and Operating Requirements

Line voltage: 100-240V AC
Frequency: 50Hz to 60Hz, single phase
Maximum continuous power: 85W
Operating temperature: 50° to 95° F (10° to 35° C)
Storage temperature: -40° to 116° F (-40° to 47° C)
Relative humidity: 5% to 95% noncondensing
Operating altitude: tested up to 10,000 feet
Typical acoustical performance, sound pressure level (operator position):

In the Box

Mac mini
HDMI to DVI Adapter
Power cord