Apple Mac mini (Mid 2011) Serial Number Lookup
Say hi to brand new, super-exclusive Apple Mac mini (Mid 2011) Serial Number Lookup! Wondering what it actually is? What it is not! Thanks to this tool you will discover all information about your phone! From the tiniest and fairly obvious to extremely advanced. Cool, isn't it? All inquisitive users will be pleased with this tool to the fullest! What is more, there is almost nothing to be done on your end. We will take care of everything. Just locate the Serial Number of yu Mac mini, and use our SN checking machine. If you do not know how to reach Apple SN, take a look at our dedicated article. With the Mac mini's Serial Number and Internet connection only, you can open the whole device's specification.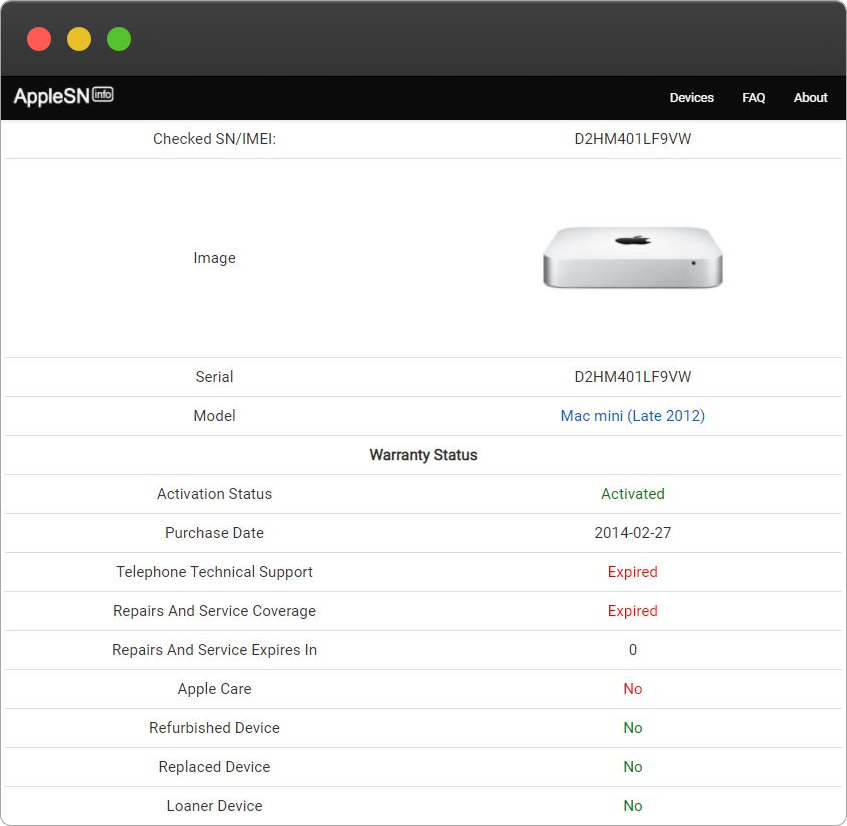 The amount of detail is really huge! It really is not possible to list it all here. Just check out all gained info by using a dedicated SN Checker. However, among the abundant information, you can find there: Activation Status, Technical Support, Part Number, Purchase Country, Full Device Description with all the features and resolutions included. You will fall in love with this SN Lookup. Not only is this extremely important to learn information about your current iOS device. This extremely valuable SN Checkup is also extremely necessary if you want to buy a second-hand Mac. You should compare the details presented by the seller with the actual condition of your Mac mini. It can be easily done right here.
Technical Specifications
Size and Weight

2.3GHz Mac mini

Height: 1.4 inches (3.6 cm)
Width: 7.7 inches (19.7 cm)
Depth: 7.7 inches (19.7 cm)
Weight: 2.7 pounds (1.22kg)

2.5GHz Mac mini

Height: 1.4 inches (3.6 cm)
Width: 7.7 inches (19.7 cm)
Depth: 7.7 inches (19.7 cm)
Weight: 2.7 pounds (1.22kg)

Processor

2.3GHz Mac mini

2.3GHz dual-core Intel Core i5 with 3MB on-chip shared L3 cache

2.5GHz Mac mini

2.5GHz dual-core Intel Core i5 with 3MB on-chip shared L3 cache
Configurable to 2.7GHz dual-core Intel Core i7, only at the Apple Online Store.

2.3GHz Mac mini

2GB of 1333MHz DDR3 memory
Configurable to 4GB or 8GB, only at the Apple Online Store.

2.5GHz Mac mini

4GB of 1333MHz DDR3 memory
Configurable to 8GB, only at the Apple Online Store.

Storage

500GB (5400-rpm) hard drive
Both models configurable to 750GB (7200-rpm) hard drive; 2.5GHz model also configurable to 256GB solid-state drive or 256GB solid-state drive and 750GB (7200-rpm) hard drive, only at the Apple Online Store.

Graphics

2.3GHz Mac mini

Intel HD Graphics 3000 processor with 288MB of DDR3 SDRAM shared with main memory

2.5GHz Mac mini

AMD Radeon HD 6630M graphics processor with 256MB of GDDR5 memory

Video Support

Thunderbolt port with support for up to 2560-by-1600 resolution
HDMI port with support for up to 1920-by-1200 resolution
DVI output using HDMI to DVI Adapter (included)
Support for dual display and video mirroring

Audio

Audio line in minijack (digital/analog)
Audio line out/headphone minijack (digital/analog)
HDMI port supports multichannel audio output
Support for Apple iPhone headset with microphone
Built-in speaker

Connections and Expansion

Thunderbolt port (up to 10 Gbps)
FireWire 800 port (up to 800 Mbps)
Four USB 2.0 ports (up to 480 Mbps)
HDMI port
SDXC card slot
Gigabit Ethernet port
Audio in/out

Communications

Wi-Fi
802.11n Wi-Fi wireless networking; IEEE 802.11a/b/g compatible
Bluetooth
Bluetooth 4.0 wireless technology
Ethernet
10/100/1000BASE-T Ethernet (RJ-45 connector)

Electrical and Operating Requirements

Line voltage: 100-240V AC
Frequency: 50Hz to 60Hz, single phase
Maximum continuous power: 85W
Operating temperature: 50° to 95° F (10° to 35° C)
Storage temperature: -40° to 116° F (-40° to 47° C)
Relative humidity: 5% to 95% noncondensing
Maximum altitude: 10,000 feet
Typical acoustical performance
Sound pressure level (operator position): 16 dBA at idle

In the Box

Mac mini
HDMI to DVI Adapter
Power cord
Printed and electronic documentation