Apple Mac mini (Mid 2010) Serial Number Lookup
Do you own an Apple Mac mini? Then you have to take a look at the below description of the best APPLE tool ever! Can you imagine that it is possible to know your Apple Mac mini (Mid 2010) more? Moreover, it can be done super quickly and easily! Especially for all APPLE family members, SN Checkup has been created. This amazingly useful feature will help you in discovering every detail of your Mac. Make sure that you are able to use it. All you need to have before using our website is the Serial Number of your device. With this unique number only, you will be able to reach all the necessary info. No matter if you are facing some issues with your current device or wondering if the device you want to buy is exactly as shown in the offer. Whatever your motivation is, this checker will be a great help for you!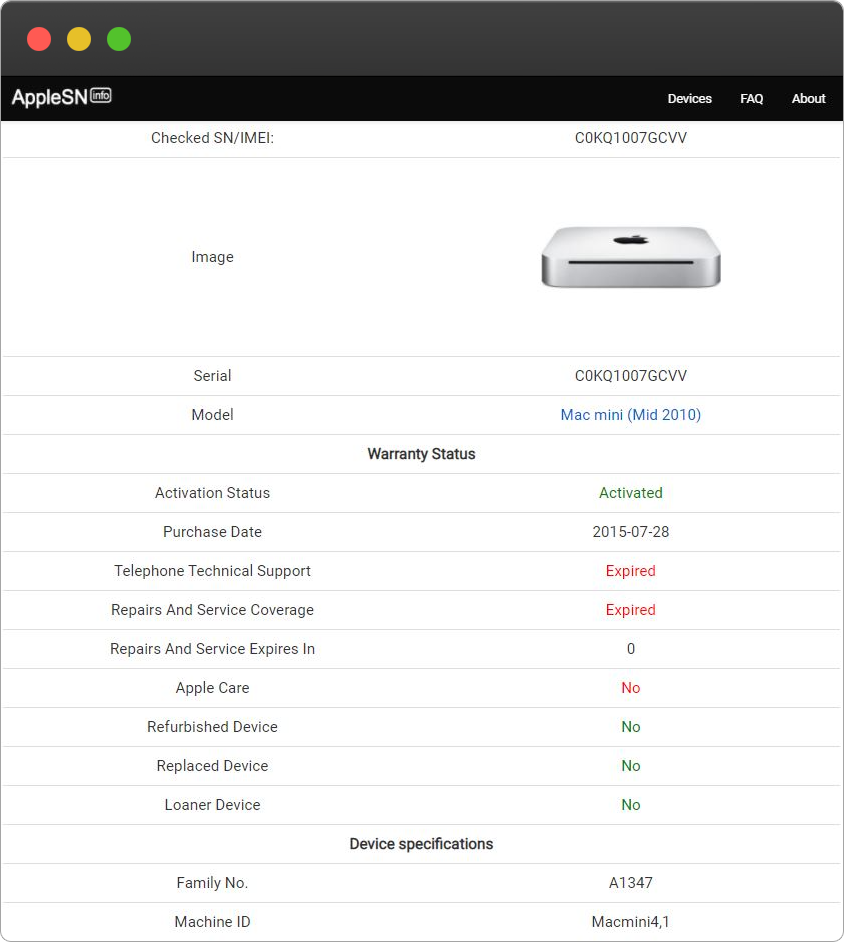 So, once you have your Serial Number, you can open thousands of details. It would take a long, long time to point everything here, and it is a waste of time. Just use the SN Lookup and read the details about the particular device. Nevertheless, as an incentive we will mention some of the information you may discover. These include Activation Status, Technical Support, Part Number, Purchase Country, Full Device Description with all the features and resolutions included. You will fall in love with this SN Lookup. Not only is this extremely important to learn information about your current iOS device. This extremely valuable SN Checkup is also extremely necessary if you want to buy a second-hand Apple Device. Use it as often as you need to and enjoy!
Technical Specifications
Size and weight

Height: 1.4 inches (3.6 cm)
Width: 7.7 inches (19.7 cm)
Depth: 7.7 inches (19.7 cm)
Weight: 3.0 pounds (1.37 kg)

Processor and memory

2.4GHz or 2.66GHz Intel Core 2 Duo processor
3MB on-chip shared L2 cache
1066MHz frontside bus
2GB (two 1GB SO-DIMMs) of 1066MHz DDR3 SDRAM; two SO-DIMM slots support up to 8GB

Peripheral connections

One FireWire 800 port (up to 800 Mbps)
Four USB 2.0 ports (up to 480 Mbps)
SD card slot

Graphics and video support

NVIDIA GeForce 320M graphics processor with 256MB of DDR3 SDRAM shared with main memory4
Mini DisplayPort with support for up to 2560-by-1600 resolution
HDMI port with support for up to 1920-by-1200 resolution
DVI output using HDMI to DVI Adapter (included)
VGA output using Mini DisplayPort to VGA Adapter (sold separately)
Support for extended desktop and video mirroring across both ports

Communications

AirPort Extreme 802.11n Wi-Fi wireless networking; IEEE 802.11a/b/g compatible
Bluetooth 2.1 + EDR (Enhanced Data Rate) wireless technology
10/100/1000BASE-T Ethernet (RJ-45) interface with support for jumbo frames

Audio

Audio line in minijack (digital/analog)
Audio line out/headphone minijack (digital/analog)
HDMI port supports multichannel audio output
Support for Apple iPhone headset with microphone

Storage

320GB or 500GB Serial ATA hard disk drive6
8x slot-loading SuperDrive (DVD±R DL/DVD±RW/CD-RW)

Maximum read: 8x DVD-R, DVD+R, DVD-ROM, DVD-ROM (double layer DVD-9), DVD-R DL (double layer), DVD+R DL (double layer), DVD-RW, and DVD+RW; 24x CD
Maximum write: 8x DVD-R, DVD+R; 6x DVD-R DL (double layer), DVD+R DL (double layer), DVD-RW; 8x DVD+RW; 24x CD-R; 24x CD-RW

Electrical and operating requirements

Line voltage: 100-240V AC
Frequency: 50Hz to 60Hz, single phase
Maximum continuous power: 85W
Operating temperature: 50° to 95° F (10° to 35° C)
Storage temperature: -40° to 116° F (-40° to 47° C)
Relative humidity: 5% to 95% noncondensing
Maximum altitude: 10,000 feet
Typical acoustical performance

Sound pressure level (operator position): 14 dBA at idle

In the box

Mac mini
HDMI to DVI Adapter
Power cord
Install/restore DVDs
Printed and electronic documentation
This website uses cookies to improve your experience. We'll assume you're ok with this, but you can opt-out if you wish.

Cookie settings

Got it!
Privacy Overview
This website uses cookies to improve your experience while you navigate through the website. Out of these cookies, the cookies that are categorized as necessary are stored on your browser as they are essential for the working of basic functionalities of the website. We also use third-party cookies that help us analyze and understand how you use this website. These cookies will be stored in your browser only with your consent. You also have the option to opt-out of these cookies. But opting out of some of these cookies may have an effect on your browsing experience.
Necessary cookies are absolutely essential for the website to function properly. This category only includes cookies that ensures basic functionalities and security features of the website. These cookies do not store any personal information.
Any cookies that may not be particularly necessary for the website to function and is used specifically to collect user personal data via analytics, ads, other embedded contents are termed as non-necessary cookies. It is mandatory to procure user consent prior to running these cookies on your website.