Apple iMac (Early 2006) Serial Number Lookup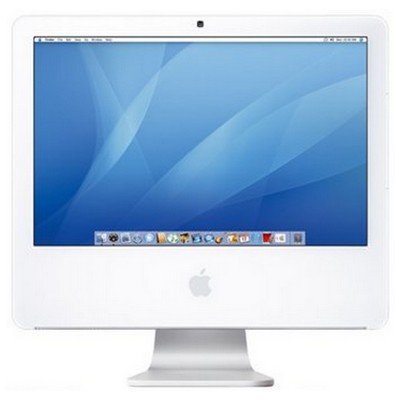 We all love the APPLE Devices.  We value them for many things, each of us probably for some different features. And now we come up with a great tool dedicated to all iMac users! Our iMac Serial Number Lookup will help you to explore your device more! Apple SN Lookup is an answer to all your questions. Right away, just within a couple of seconds, all data connected with the checking device will be transparent for you. You will be aware of every super important and quite obvious Apple detail. Not half of the detail will be a secret to you. Just prepare your Serial Number, use our Serial Number Lookup, and enjoy!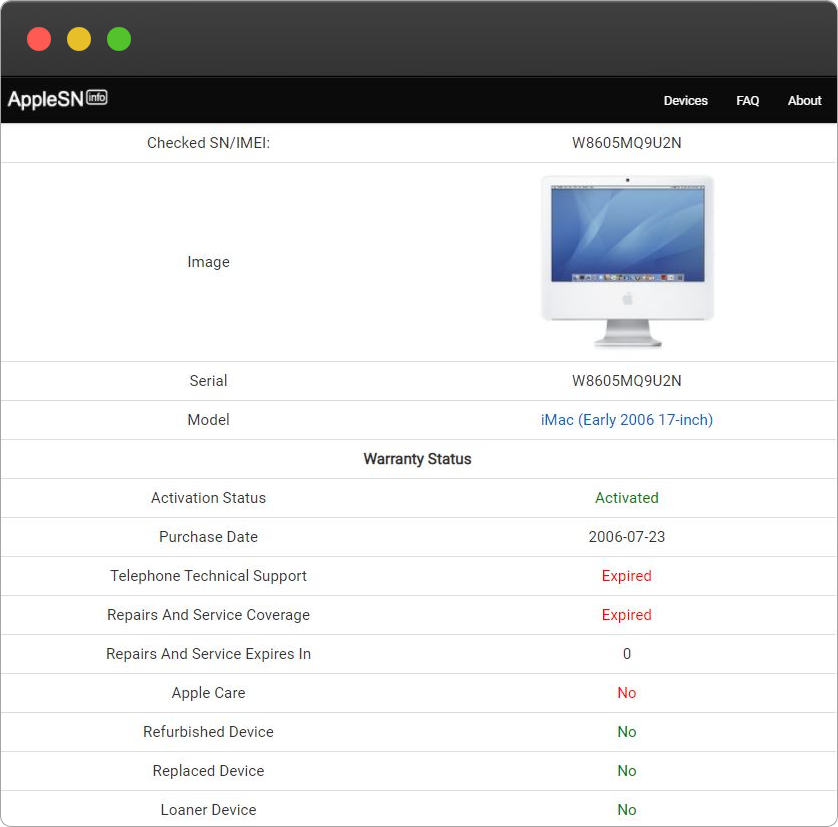 The amount of detail is huge! It really is not possible to list it all here. Just check out all gained info by using a dedicated SN Checker. However, among the abundant information, you can find there: Activation Status, Technical Support, Part Number, Purchase Country, Full Device Description with all the features and resolutions included. You will fall in love with this SN Lookup. Not only is this extremely important to learn information about your current iOS device. This extremely valuable SN Checkup is also extremely necessary if you want to buy a second-hand Apple Device. You should compare the details presented by the seller with the actual condition of your iMac. It can be easily done right here.
Technical Specifications
Size and weight (17-inch)

Height: 16.9 inches (43.0 cm)
Width: 16.8 inches (42.6 cm)
Depth: 6.8 inches (17.3 cm)
Weight: 15.5 pounds (7 kg)

Size and weight (20-inch)

Height: 18.6 inches (47.2 cm)
Width: 19.4 inches (49.3 cm)
Depth: 7.4 inches (18.9 cm)
Weight: 22 pounds (10 kg)

Processor and memory

1.83GHz or 2GHz Intel Core Duo processor
2MB shared L2 cache at full processor speed
667MHz system bus
512MB (single SODIMM) of PC2-5300 (667MHz) DDR2 memory; two SODIMM slots support up to 2GB

Storage

160 or 250GB 7200-rpm Serial ATA hard disk drive
8x SuperDrive (DVD+R DL/DVD±RW/CD-RW) installed; writes DVD+R DL discs at up to 2.4x speed, writes DVD-R and DVD+R discs at up to 8x speed, writes DVD-RW and DVD+RW discs at up to 4x speed, reads DVDs at up to 8x speed, writes CD-R discs at up to 24x speed, writes CD-RW discs at up to 8x speed, reads CDs at up to 24x speed

Communications

Built-in 54-Mbps AirPort Extreme Card (802.11g standard)
Built-in Bluetooth 2.0+EDR (Enhanced Data Rate) module
Built-in 10/100/1000 Gigabit BASE-T Ethernet (RJ-45 connector)
Works with 56K V.92 Apple USB Modem (sold separately)

Display

Built-in 17-inch (viewable) widescreen or 20-inch (viewable) widescreen TFT active-matrix liquid crystal display
Millions of colors at all resolutions
Typical viewing angle:

17-inch model

140° horizontal
120° vertical

20-inch model

170° horizontal
170° vertical

Typical brightness: 250 cd/m (17-inch model); 280 cd/m (20-inch model)
Typical contrast ratio: 500:1 (17-inch model); 800:1 (20-inch model)

Graphics and Video

ATI Radeon X1600 graphics processor using PCI Express
128 MB of GDDR3 video memory
Mini-DVI output port with support for DVI, VGA, S-video, and composite video connections via adapter2
Built-in iSight camera
Support for external display in extended desktop

Digital resolutions up to 1920 x 1200
Analog resolutions up to 2045 x 1536

Support for external display in video mirroring mode

Electrical and environmental requirements

Meets ENERGY STAR requirements
Line voltage: 100-240V AC
Frequency: 50Hz to 60Hz, single phase
Maximum continuous power: 180W
Operating temperature: 50° to 95° F (10° to 35° C)
Storage temperature: -40° to 185° F (-40° to 85° C)
Relative humidity: 5% to 95% noncondensing
Maximum altitude: 10,000 feet

Peripheral connections

Two FireWire 400 ports; 8 watts shared
Total of five USB ports: three USB 2.0 ports (up to 480 Mbps) on computer, two USB 1.1 ports on keyboard

Audio

Built-in stereo speakers
Internal 12-watt digital amplifier
Headphone/optical digital audio output
Audio line input
Built-in microphone

In the Box

iMac
Apple Keyboard
Mighty Mouse
Apple Remote
Power cord
Install/restore DVDs
Printed and electronic documentation
This website uses cookies to improve your experience. We'll assume you're ok with this, but you can opt-out if you wish.

Cookie settings

Got it!
Privacy Overview
This website uses cookies to improve your experience while you navigate through the website. Out of these cookies, the cookies that are categorized as necessary are stored on your browser as they are essential for the working of basic functionalities of the website. We also use third-party cookies that help us analyze and understand how you use this website. These cookies will be stored in your browser only with your consent. You also have the option to opt-out of these cookies. But opting out of some of these cookies may have an effect on your browsing experience.
Necessary cookies are absolutely essential for the website to function properly. This category only includes cookies that ensures basic functionalities and security features of the website. These cookies do not store any personal information.
Any cookies that may not be particularly necessary for the website to function and is used specifically to collect user personal data via analytics, ads, other embedded contents are termed as non-necessary cookies. It is mandatory to procure user consent prior to running these cookies on your website.