Apple iPod photo Serial Number Lookup
Lookup iPod photo by Serial Number
Have you ever wondered if it is possible to reach some further details regarding the Apple iPod photo? Are you looking for the full specification of the Apple device? We are coming to present the Apple iPod photo Serial Number Checkup. Let's use this amazingly useful tool and discover everything that this Apple gadget is hiding.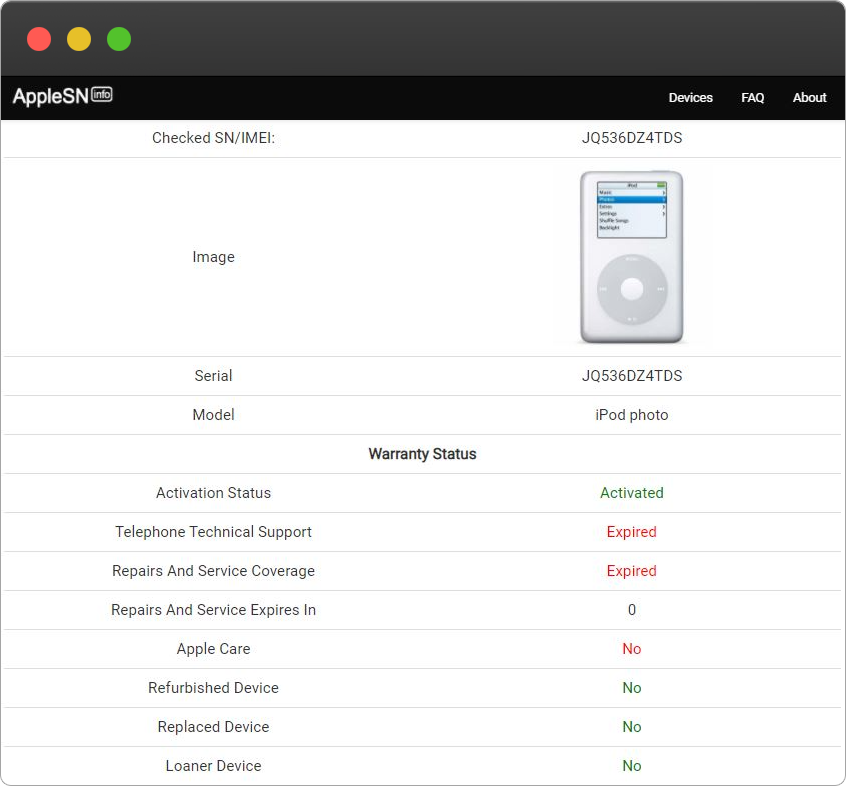 Why the SN Checker is worth using? It's an extremely needed function when you are planning to buy the used iPod online. What is needed to successfully perform the checking process? Just the Apple Serial Number is wanted! So, ask the seller about this unique SN and get access to the AppleSN.info and drop it on the specially designed box and receive detailed information about Apple's toy. Apple iPod photo Serial Number tool gives you access to the hidden information such as Model, Color, Device age, Production date, Factory, Unique number, and the most wanted info: Warranty Status. The Apple iPod Warranty Status tells you about the Activation Status, Purchase Date, Repairs and Service Coverage, Refurbished device, Replaced Device, or even Loaner device. So use the checker and enjoy it!
Apple iPod photo Technical Specifications
Capacity

40 GB or 60 GB hard disk drive

Holds 10,000 or 15,000 songs in 128-Kbps AAC format
Stores data via FireWire or USB 2.0hard drive

Size and weight

Height: 4.1 in
Width: 2.4 in
Depth: 0.75 in
Weight: 6.4 oz (181 g)

Display

2-inch (diagonal) color liquid crystal display with blue-white LED backlight
220-by-176-pixel resolution, 0.18-mm dot pitch
16-bit, 65,536 colors
Support for display of multiple languages and characters simultaneously
Syncs iPod-viewable photos in JPEG, BMP, GIF, TIFF, PSD (Mac only) and PNG formats.

Audio

Up to 25 minutes of skip protection
Frequency response: 20Hz to 20,000Hz
Audio formats supported: AAC (16 to 320 Kbps), MP3 (32 to 320 Kbps), MP3 VBR, Audible, AIFF, Apple Lossless and WAV
Upgradable firmware enables support for future audio formats

Customizable settings

Customize main menu
Create multiple On-The-Go playlists
Adjust audiobook playback speed
Clicker playback through headphones
Rate songs
Shuffle songs or albums
Repeat one or all
Sound Check on or off
20 Equalizer settings
Backlight timer
Display contrast
Alarms on, off or silent
Sleep timer
Date and time
Display time in menu bar
Contacts sort and display by first or last names
Clicker on or off

Headphones

Earbud-style headphones with 18-mm drivers using Neodymium transducer magnets
Frequency response: 20Hz to 20,000Hz
Impedance: 32 ohms

Input and output

Dock connector
3.5-mm stereo headphone jack
Wired remote connector

Power and battery

Built-in rechargeable lithium ion battery
iPod audio playback time: Up to 15 hours when fully charged
iPod slideshow playback time: Up to 5 hours when fully charged (without TV out)
Standby time: 1 month when fully charged
Charging via FireWire to computer system or power adapter

Fast-charge time: Up to 3 hours for iPod (charges up to 80% of battery capacity)
Full-charge time: Up to 5 hours

Charging via USB 2.0 to computer system or optional power adapter

Full-charge time: Up to 5 hours

Power adapter

iPod Power Adapter
AC input: 100V to 240V at 0.4 amp maximum
Frequency: 50Hz to 60Hz
DC output: 5V at 1 amp maximum

Environmental requirements

Operating temperature: 32° to 95° F (0° to 35° C)
Non operating temperature: -4° to 113° F (-20° to 45° C)
Relative humidity: 5% to 95% noncondensing
Maximum operating altitude: 10,000 feet (3000 m)
See for another iPod Serial Number Check.