Do you know that the serial number of your AirPods can be found in several places? If you, for example, do not have your invoice, original box or number on your headphones in is worn, smoothly pick some other method. Take a look at the below and come along with all possible places, where Serial Number is included.
From iOS device
Firstly, open Settings.
Then, go to the General.
Find and select the About tab.
Finally, selectAirPods.
Great! Here is your serial number!
Original product packaging
If you haven't thrown away the original box from your AirPods, there is still a possibility to find the serial number on thebarcode label.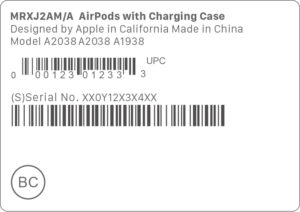 Receipt or invoice
There is a high possibility that if you have the originalinvoice or receipt, the serial number is located there, as most retailers are including it on the bill.
Underside of the Lid
You can locate it on the original box, in which your headphones are stored.
On each AirPod
In the 2nd generation of AirPods and in AirPods Pro, you can also locate Serial Number on each AirPod. It has its own, unique SN printed on the cover.
However, this is not the same number that you will find elsewhere, so if you send your AirPods or just charging case to the service, please provide the main serial number printed on the cover of the case.