Apple Mac Pro (2019) Serial Number Lookup
We are happy to present Apple Mac Pro (2019) Serial Number Lookup. Do you wish to locate the full specification of the Apple device? Are you looking for the Mac Pro Warranty Status? Let's check out the Apple SN Checker and discover everything that Apple Mac Pro (2019) is hiding and nothing will be a secret for you.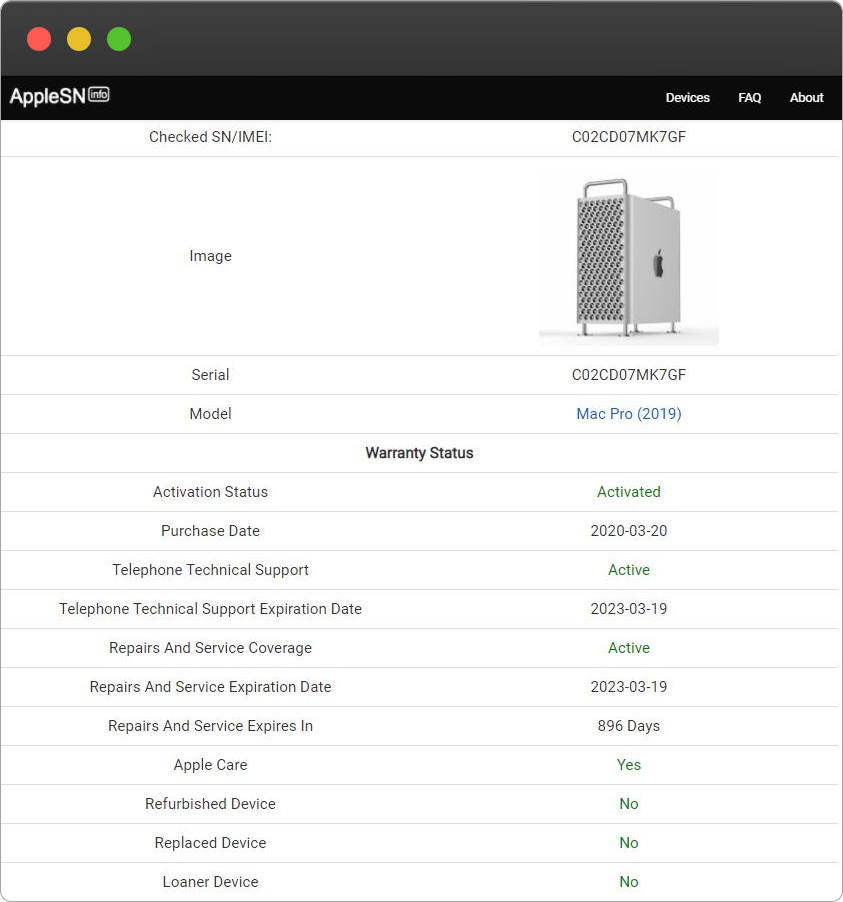 Apple Mac Pro (2019) Serial Number Lookup provides you all information about the Mac Pro that you are interested in. This is an extremely needed tool in the situation when you wish to buy the used Mac Pro remotely. The thing that you need to successfully perform the verification of the Apple product is the Serial Number. So, is good to ask the seller about this unique SN and after that get access to the AppleSN.info webpage to drop Apple Serial Number to the specially designed box. As a result of the whole process, you will get information such as Model, Color, Device age, Production date, Factory, Unique number, and the most wanted info: Warranty Status. The Mac Pro Warranty Status tells you about the Activation Status, Purchase Date, Repairs and Service Coverage, Refurbished device, Replaced Device, or even Loaner device. Let's use Apple Mac Pro (2019) tool and verify every Mac Pro within a couple of seconds.
Technical Specifications
Processor
Configure from an 8‑core to 28‑core Intel Xeon W processor

8-Core

3.5GHz Intel Xeon W
8 cores, 16 threads
Turbo Boost up to 4.0GHz
24.5MB cache
Supports 2666MHz memory

12-Core

3.3GHz Intel Xeon W
12 cores, 24 threads
Turbo Boost up to 4.4GHz
31.25MB cache
Supports 2933MHz memory

16-Core

3.2GHz Intel Xeon W
16 cores, 32 threads
Turbo Boost up to 4.4GHz
38MB cache
Supports 2933MHz memory

24-Core

2.7GHz Intel Xeon W
24 cores, 48 threads
Turbo Boost up to 4.4GHz
57MB cache
Supports 2933MHz memory

28-Core

2.5GHz Intel Xeon W
28 cores, 56 threads
Turbo Boost up to 4.4GHz
66.5MB cache
Supports 2933MHz memory

Memory
Configure up to 1.5TB of DDR4 ECC memory in 12 user-accessible DIMM slots

32GB
Four 8GB DIMMs
48GB
Six 8GB DIMMs
96GB
Six 16GB DIMMs
192GB
Six 32GB DIMMs
384GB
Six 64GB DIMMs
768GB
Six 128GB DIMMs or 12 64GB DIMMs
1.5TB
12 128GB DIMMs
Requires 24-core or 28-core processor.

8-core processor operates memory at 2666MHz.
12-core to 28-core processors operate memory at 2933MHz.

Graphics
Configure two MPX Modules with up to four GPUs

AMD Radeon Pro 580X

36 compute units, 2304 stream processors
8GB of GDDR5 memory
Up to 5.6 teraflops single precision
Two HDMI 2.0 ports on card
Four DisplayPort connections routed to system to support internal Thunderbolt 3 ports
Support for up to six 4K displays, two 5K displays, or two Pro Display XDRs
Half-height MPX Module fits in an MPX bay and enables PCIe slot 2 for additional expansion

AMD Radeon Pro W5700X

40 compute units, 2560 stream processors
16GB of GDDR6 memory with 448GB/s memory bandwidth
Up to 9.4 teraflops single precision or 18.9 teraflops half precision
Four Thunderbolt 3 ports and one HDMI 2.0 port on card
Two DisplayPort connections routed to system to support internal Thunderbolt 3 ports
Support for Display Stream Compression (DSC)
Support for up to six 4K displays, three 5K displays, or three Pro Display XDRs
Full-height MPX Module fills an MPX bay and uses extra power and PCIe bandwidth

AMD Radeon Pro Vega II

64 compute units, 4096 stream processors
32GB of HBM2 memory with 1TB/s memory bandwidth
Up to 14.1 teraflops single precision or 28.3 teraflops half precision
Infinity Fabric Link connection enables two Vega II GPUs to connect at up to 84GB/s
Four Thunderbolt 3 ports and one HDMI 2.0 port on card
Two DisplayPort connections routed to system to support internal Thunderbolt 3 ports
Support for up to six 4K displays, three 5K displays, or two Pro Display XDRs
Full-height MPX Module fills an MPX bay and uses extra power and PCIe bandwidth

AMD Radeon Pro Vega II Duo

Two Vega II GPUs, each with 64 compute units and 4096 stream processors
64GB of HBM2 memory (32GB per GPU), each with 1TB/s memory bandwidth
Up to 28.3 teraflops single precision or 56.6 teraflops half precision
Onboard Infinity Fabric Link connection connects the two Vega II GPUs at up to 84GB/s
Four Thunderbolt 3 ports and one HDMI 2.0 port on card
Four DisplayPort connections routed to system to support internal Thunderbolt 3 ports
Support for up to eight 4K displays, four 5K displays, or four Pro Display XDRs
Full-height MPX Module fills an MPX bay and uses extra power and PCIe bandwidth

Power Supply
1.4 kilowatts

Maximum continuous power:

1280W at 108–125V or 220–240V
1180W at 100–107V

Expansion Slots
Eight PCI Express expansion slots

Two MPX Modules or up to four PCI Express card slots
Each MPX bay provides:

x16 gen 3 bandwidth for graphics
x8 gen 3 bandwidth for Thunderbolt
DisplayPort video routing
Up to 500W power for an MPX Module
Alternatively, each MPX bay can support:
One full-length, double-wide x16 gen 3 slot and one full-length, double-wide x8 gen 3 slot (MPX bay 1)
Or two full-length, double-wide x16 gen 3 slots (MPX bay 2)
Up to 300W auxiliary power via two 8-pin connectors

Three full-length PCI Express gen 3 slots

One x16 slot; two x8 slots
75W auxiliary power available

One half-length x4 PCI Express gen 3 slot with Apple I/O card installed

Apple Afterburner
ProRes and ProRes RAW accelerator card

PCI Express x16 card
Accelerates ProRes and ProRes RAW codecs in Final Cut Pro X, QuickTime Player X, and supported third-party apps
Supports system playback of up to 6 streams of 8K ProRes RAW or up to 23 streams of 4K ProRes RAW

Storage
Configure up to 8TB of SSD storage

256GB SSD
One 256GB module
1TB SSD
Two 512GB modules
2TB SSD
Two 1TB modules
4TB SSD
Two 2TB modules
8TB SSD
Two 4TB modules

Up to 3.4GB/s sequential read and 3.4GB/s sequential write performance.
Storage encrypted by the Apple T2 Security Chip.

Input/Output
I/O card installed in the half-length x4 PCI Express slot with:

Two USB 3 ports

Support for USB-A (up to 5Gb/s)

Two Thunderbolt 3 ports

Support for Thunderbolt 3 (up to 40Gb/s)
Support for USB-C (up to 10Gb/s)
Support for DisplayPort

Two 10Gb Ethernet ports:

Support for 10Gb Ethernet performance over copper cabling
Support for Nbase-T industry standard: 1Gb, 2.5Gb, 5Gb, and 10Gb Ethernet link speeds using RJ-45 connectors

Additional Connections
Two Thunderbolt 3 ports on the top of the tower enclosure

Support for Thunderbolt 3 (up to 40Gb/s)
Support for USB-C (up to 10Gb/s)
Support for DisplayPort

Audio

Built-in speaker
3.5 mm headphone jack with headset support

Input Devices

Magic Keyboard with Numeric Keypad (silver and black)
Magic Mouse 2 (silver and black)
Optional Magic Trackpad 2 (silver and black)

Wireless

Wi-Fi
802.11ac Wi-Fi wireless networking
IEEE 802.11a/b/g/n compatible
Bluetooth
Bluetooth 5.0 wireless technology

Enclosure

Mac Pro tower enclosure with feet; configurable to tower with wheels

Dimensions

Height: 20.8 inches (52.9 cm)
Width: 17.7 inches (45.0 cm)
Depth: 8.58 inches (21.8 cm)
Height with optional wheels: 21.9 inches (55.7 cm)

Weight
Electrical and Operating Requirements

Line voltage: 100–125V AC at 12A; 220–240V AC at 6A
Frequency: 50Hz to 60Hz, single phase
Operating temperature: 50° to 95° F (10° to 35° C)
Storage temperature: –40° to 116° F (–40° to 47° C)
Relative humidity: 5% to 95% noncondensing
Maximum altitude: tested up to 16,400 feet (5000 meters)

Operating System
In the Box

Mac Pro
Magic Keyboard with Numeric Keypad
Magic Mouse 2
USB-C to Lightning Cable (1 m)
Power cord (2 m)